Pre-existing cubicle solutions can be upgraded or refurbished using the Shades Technics range of freshwater WC kits and accessories. These kits are suitable for both centre and rear cubicle applications.
Hydroflush system
Hydroflush Freshwater System: Using compressed air, this system operates using only 300ml of water per flush. The compact and durable design allows this reliable system to be fitted to a wide variety of applications.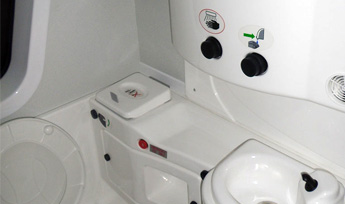 Swingflush system
Swingflush Freshwater or Re-circulating System: Using a pressure sensitive evacuation method, this system does not require the availability of compressed air in order to function. Minimal mechanical parts enhance the system's long-term reliability.